Writing a Great Father Funeral Speech
Funeral Speech Tips to a Grieving Son or Daughter
A father funeral speech can be very difficult but also very comforting to write and deliver.  Giving the eulogy for your father will be an emotional experience, but writing a funeral speech in his honor will give you the proper incentive to think about your experiences with your dad and your feelings about the life you lived with him.
What to Include
There are no laws about what to include and what not to include.  The father eulogy should be respectful, praise filled, and celebratory.  A father funeral speech honors a person's life more than it mourns his death.  Of course you are sad to have lost him, but through your words, your goal is to inspire the mourners to focus on what a positive impact he has had on them and their lives.
•    Talk about his life.  Give a brief history.  A father funeral speech should start with his birth and his childhood.  Discuss his siblings and his parents, leading up to his dating and marriage to your mother.
•    Discuss what it was like being his son or daughter.  Your funeral speech for dad is likely being given by you as a representative of your siblings.  Include them in your tales and your anecdotes of your youth in your father's home.
•    Get personal.  What did you admire about your dad?  Talk about the impact he had on you personally, when he supported you, when he guided you, and even when he disciplined you.
•    Add some humor. Share a funny story about a family vacation or a project that you worked on together.  This will unite your family in a memory that will make them laugh instead of cry.  A father funeral speech should have this effect, at least briefly.
Where to Begin
If you have found yourself sitting at the table with a blank piece of paper in front of you and a lump in your throat, do not panic.  Getting started is the worst part.  A quick search online will reveal a wide range of eulogy samples that can help get you started.  From these you will get some ideas about how to structure your speech.
Write an outline of your eulogy for Dad and begin filling in details from stories, experiences, and characteristics you want to be sure to mention.  Soon you will find that you have more than you can use, and you will possibly find that while you may have cried a little, you are feeling a little better about delivering this speech after all.
Gather Visual Tools
Another great support for father funeral speeches is pictures, slides, and so on.  Have an easel prepared with pictures from throughout your father's life that funeral goers can see before and after the service.  Include a funeral poem that you may find fitting to the occasion and any medals, awards, or other effects of which your father was proud.  Once you get started, you will find that a father eulogy is not difficult to write, and it can be very therapeutic.
.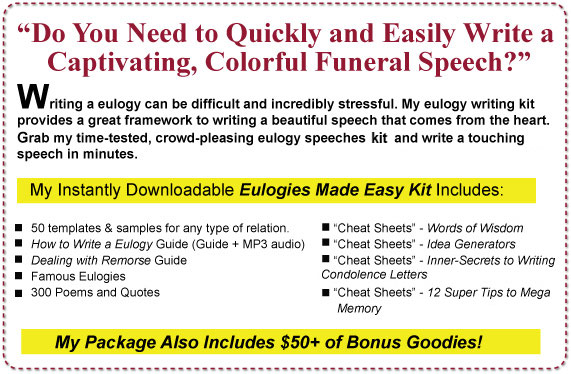 .

Audio clip: Adobe Flash Player (version 9 or above) is required to play this audio clip. Download the latest version here. You also need to have JavaScript enabled in your browser.
Other Eulogy Articles
Funeral Speech
Mother Funeral Speech
Writing an Outstanding Funeral Speech