Use Christian Eulogy Samples to Write a Great Funeral Speech
Offer Friends and Family Comfort and Hope
Writing a funeral speech for a Christian funeral is easy with Christian eulogy samples.  A quick search online or some requested materials from your funeral director or minister will give you ample ideas to get you started.  Follow a few substantial tips and you will have written a successful eulogy for your friend or family member's memorial service.
Topics to Cover
The best way to get started is to sit down and write an outline for your speech.  You will find that most Christian eulogy samples include many if not all of the following elements:
•    Start with a brief history of the deceased.  You will find that many Christian eulogy samples include an opening about when the honored individual was born and a little bit about his parents and siblings.
•    Talk about his childhood.  Where did he grow up and what kinds of activities did he enjoy? Christian eulogy samples will give you good ideas about how to keep these brief by informative.
•    Talk about his years in school, what his interests were, and what activities and clubs he participated in.  Look at some Christian eulogies  for creative ideas.
•    Talk about his adult life, his career and accomplishments, his marriage and so on.
•    Once you have laid out his biography, talk about his characteristics and traits, and how he impacted others.  Talk about how he impacted you personally.
•    Include one or two specific experiences or memories with the deceased.  Include a little humor where appropriate, as this will lighten the mood of the grievers at the service.
So far, you have given a substantial biography of your loved one.  However, samples of Christian eulogies will show that your next step is to include elements of hope based in the Christian faith.  By adding a few more topics and sections to your speech, you can provide the comfort and guidance to the mourners that they are seeking by attending the funeral.
•    Discuss the deceased and his involvement in the church.  Talk about how he handled his faith and what his community service ideals were.
•    Pull strength, if appropriate from what you know about the faith and attitude of the deceased toward death, dying, and eternal life.
•    Include scripture readings that talk about death and everlasting life, about heaven, and about faith.  These verses exist throughout the Bible, but good books to start with include Corinthians and the gospels, including Matthew and Luke.  If you are unsure what verses to use, consult Christian eulogy samples for some good ideas.
•    Finally, end in a prayer.  Lead the friends and family of the deceased in a prayer, seeking strength, understanding, and healing.  If you are uncomfortable making up a prayer of your own, talk to your minister or seek prayers that have been included in other Christian eulogies.
Following an outline that flows in the direction of these examples will make the job of writing and of delivering your funeral speech much easier.  Using Christian eulogy samples, you can prepare a speech that praises, celebrates, and honors the deceased, while offering the mourners hope, comfort, and peace.
.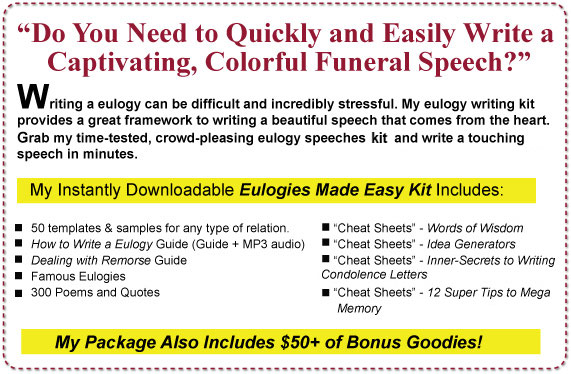 .

Audio clip: Adobe Flash Player (version 9 or above) is required to play this audio clip. Download the latest version here. You also need to have JavaScript enabled in your browser.
Other Eulogy Articles
Eulogy Samples
Choosing a Eulogy Sample
Eulogy Sample for Sister
Eulogy for Grandmother Using Samples
Sample Eulogy for Mother
Sample Eulogy for Aunt
Sample Eulogy for Brother
Sample Eulogy for Father